TelePharm
Expand your independent pharmacy business with remote-dispensing software.
Retail telepharmacies are brick-and-mortar locations staffed by certified pharmacy technicians who prepare prescriptions on site. The facility is supervised by a pharmacist who reviews prescriptions and counsels patients from a managing pharmacy.
Pharmacy owners across the country are using TelePharm's innovative cloud-based software to open new telepharmacies, improve patient outcomes and serve more patients. The user-friendly software enables safe remote verification and HIPAA-compliant secure patient counseling — both of which help you provide all the care and services of a traditional pharmacy. In addition to being a safe and secure practice of pharmacy, telepharmacy is cost-effective.
Key benefits:
Provides patients in medically underserved areas access to a pharmacy
Operate in areas where a traditional pharmacy would not be feasible
Expand your business cost-effectively
Helps combat slim margins and declining reimbursements
Extend the reach of the pharmacist while improving care
Key features:
Cloud-based, HIPAA-compliant secure telepharmacy software
Smart queues to manage the workflow and operations between both sites
Photo documentation of each prescription filled & dispensed
Secure HD video conferencing for patient counseling
Maximize resources with collaborative staffing 
How telepharmacy works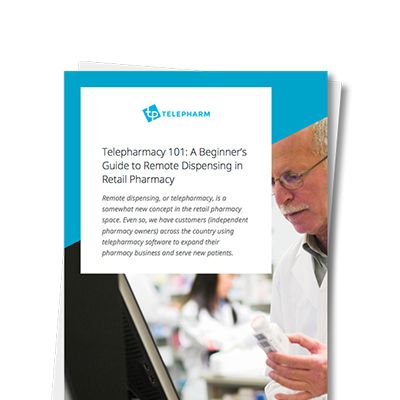 Free eBook
Telepharmacy 101: A Beginner's Guide to Remote Dispensing in Retail Pharmacy