Angie Glotzbach, PharmD and Leslie Davis, PharmD
Angie and Leslie explain the importance of having a pharmacy mentor.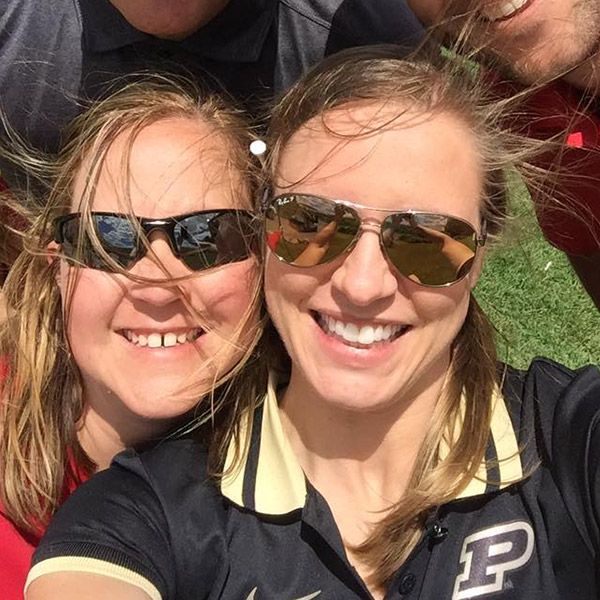 Angie and Leslie, two independent pharmacists in Indiana, explain how their friendship helped each other succeed in their pursuit of pharmacy ownership.
Can you tell us the story of how you were inspired to become a pharmacist and own your own pharmacy?
LD – I matched my career with my academic interests and the needs of my community. I have always had a passion for serving my home town, and I knew I wanted a job that would allow me to help people and serve them in a way that left them feeling valued and cared for. During pharmacy school, I worked at the local CVS, but I knew that I would feel more fulfilled in my pharmacy career if I could own a store and practice pharmacy the way I wanted. I approached the owners of an existing community pharmacy in my hometown and asked if they'd ever be interested in selling their business. It was great timing, and with resources and guidance provided by the Pharmacy Transition Services team, I soon owned my pharmacy in my hometown – Davis Drugs. I have loved being an independent pharmacist from the first day I opened my store. 
AG – I wanted to be a pharmacist because medicine always interested me. Like Leslie, helping others was a passion of mine, but I wasn't sure what area I wanted to pursue until a medical error at a physician office injured one of my grandfathers. I wanted to prevent that situation and avoid any person to getting the wrong medication on my watch! Watching Leslie have the impact that she does with all of her patients, while growing her business to compete with chain pharmacies made me realize that working for a chain was not allowing me to follow my passion and care for my patients. I wanted to make connections to patients that needed it most and allow myself to spend time listening to those that needed some extra attention. I couldn't do that during my time at a chain pharmacy, where my goals were focused on metrics and quickly filling prescriptions, rather than counseling patients. Working in my own store, I have yet to have one customer complain that they had to wait due to the fact that I was helping another patient.
Leslie – I understand you acted as sort of a mentor to Angie as she went through the process of purchasing her pharmacy. Angie, Can you explain how having Leslie in your network impacted your path to ownership?
AG – I never gave a great deal of thought to owning my own pharmacy until Leslie bought hers. I was jealous of her ability to help people in a way that I couldn't while working in a chain. When my dad had a heart stent put in, without prescription insurance, I sent him to Leslie to get his medicine for two reasons: she would care for him as much as I did and she could help him get his medicine so much easier than I could!
Still to this day, I go to her to ask about her experiences and seek advice on how to do things that will benefit my store and my patients. If Leslie wouldn't have talked to me about the benefits of owing my own store, I would still likely be suffering from the daily stress of working for a corporate chain.
LD – When I bought my pharmacy, I didn't really have a mentor to ask questions and bounce ideas off of, and I wish I would have had a platform to connect me to other women who had gone down the path before me. The owner that I purchased my store from was in failing health, so I had to do trial and error on my own to make it work. I found that if you treat people right, work hard (it IS hard work), and do what is best for your patients, you can be successful. I knew Angie from when we both worked for the chain pharmacy, and knew she felt the same burnout that I had once had. I also knew of a local pharmacy in her area that I thought might be interested in transitioning owners, and I encouraged her to pursue independence. We've formed a great friendship and mentorship since she's bought her own store.
Angie – I understand you also purchased your pharmacy from a female owner. Why do you think it was important for the previous owner to continue the legacy of female ownership in her store?
AG – The owner of my pharmacy wanted to keep the legacy of her store alive. She inherited the pharmacy from her husband, who had recently passed away, and it was important to her to sell to someone with connections to the community, who would serve their patients just as she and her husband had while owning the store. The previous owner also helped me understand all of the benefits of working and owning a community pharmacy. For instance, she helped me realize that my kids can come to work with me when necessary. I now own a business that I can pass on to my children when they're ready. I have the flexibility to put my family and kids first again because I work for me – I am my own boss. 
Leslie – do you have any comments on your own journey of purchasing your pharmacy from a female owner?
LG – I was passionate about keeping an independent pharmacy, independent and so was the previous owner, which is why purchasing my pharmacy worked out for me. I think women are in a unique position to serve in community pharmacy positions. When you look at the stats, the average community pharmacy customer is a woman, a mom, and/or a caregiver. As women, I feel we can provide better care and services to those target customers because we empathize and understand their needs in different ways that a male pharmacist doesn't necessarily understand.
How do you feel having a friend and mentor in the pharmacy profession has helped you grow in your role as a community pharmacist?
AG – Seeing Leslie in her role as a community pharmacist gave me the nerve to buy my pharmacy. I'm very new to this role, but I know I have a sounding board and someone to talk me off the ledge when I start questioning and asking myself "what did I get myself into?!"
LD – You don't have a person who "gets it like you get it" until you have a friend in the profession. My husband works in my pharmacy and I can talk to him, but it's not the same as having someone who is wearing the "same shoes." With Angie, I have someone to talk to, to laugh with and we challenge each other. I opened my store on my own and I will be the first to say that it's very overwhelming when you're brand new and trying to figure it out. It's been helpful for her to see how I figured it out, but I've also been able to challenge her and encourage her that she can figure it out too. I know she's doing awesome and will continue to succeed. I'm glad that I can provide that encouragement to her and others, because I wish I had more of it when I forged my own path. 
What advice would you give aspiring female owners about opening up their own pharmacy and networking with others in the Women in Pharmacy network?
AG – My pharmacy class was 75 percent women. Thinking across the friends I've made in this industry, women dominate. Whether you want to own your own pharmacy or just change your field of expertise, women will be there to support you. It's always great to have a sounding board of contacts that have been there and done it before. You can be a mom and do this job without any hesitations. You can make your own rules, and you can inspire the next generation of women pharmacists into meaningful, impactful careers in independent pharmacy.  
LD – I make a better living working in my own store than I would have at a chain, and I'm HAPPIER than I've ever been. If you work hard and you have a passion, you cannot go wrong. You can make your store whatever you want it to be if you believe in yourself, but it's important to understand that it's not just going to come to you. It's a lot of work – but it's rewarding. I'm a big believer that if you do what you love, you'll never work a day in your life. I've owned my store for about four years, and I still don't feel like I "have" to get up every morning and go to work – I "get" to go to work. It's a privilege and a passion, and I'm so glad that I get to live out my dream each day.