LaDonna Poehler, RPh
Medicine Shoppe's first Telepharmacy in Newton, IL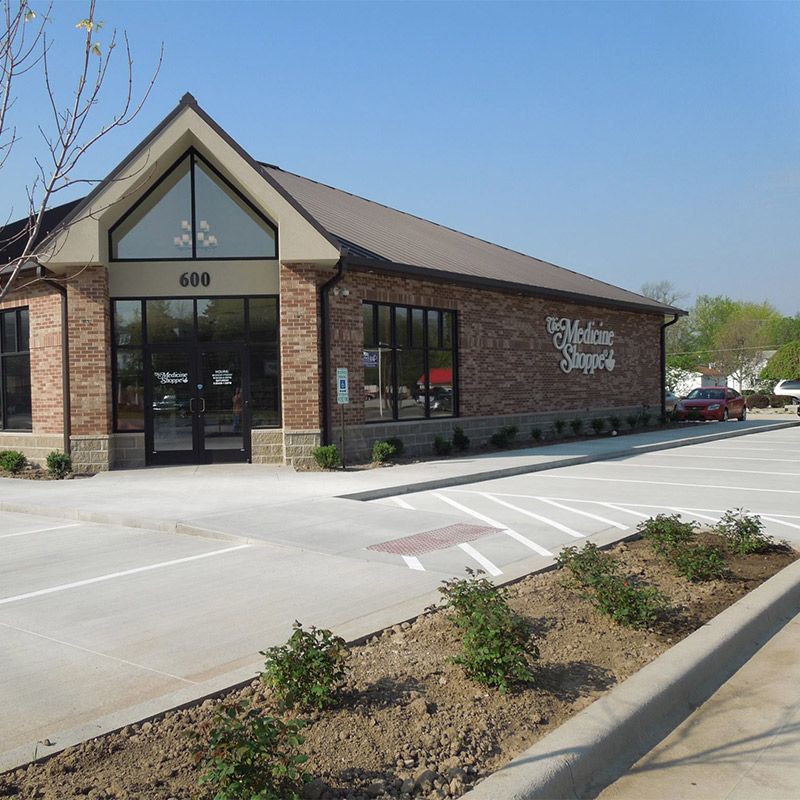 We caught up with LaDonna Poehler from Medicine Shoppe 1339 to ask about her newest adventure in pharmacy ownership – Telepharmacy! Scroll down to read about LaDonna's story and how she's been able to build a successful (and growing!) business since she opened her store in 1994.
How were you inspired to become a pharmacist and own your own retail independent pharmacy?
When I was in high school, I had to write a career research paper and just happened to explore pharmacy as the topic. After, I decided to pursue that career path in college and I always kept the dream of owning a pharmacy in the back of my mind. After I graduated, I went to work for a pharmacy chain until one day about a year after graduation, I received a flyer from Medicine Shoppe International, encouraging me to open my own store. My husband, who works as a farmer, thought I was crazy when I asked him what he thought of the idea of me becoming a pharmacy owner. "Take a chance on me this year," I told him, "and if it doesn't work out, I can always go back and work for a pharmacy chain." That was in 1994. Today, my husband has been one of the biggest supporters of me opening my second pharmacy location – Poehler's Pharmacy, a member of the Medicine Shoppe Family.
Speaking of your second store, we hear you're going to offer "Telepharmacy" technology in your new location. Tell us a little bit about Telepharmacy and what inspired you to take the plunge to try it.
Telepharmacy is a technology that allows prescription medications to be dispensed by a pharmacy technician as advised by a "remote" pharmacist. It's been really popular in more rural areas of the country and because of Illinois state laws, it's becoming more common here as well. As an existing community pharmacy owner, I was able to make valuable connections with members of my community and those in surrounding areas. A neighboring village that I make prescription deliveries to approached me one day to ask if I'd be interested in opening a Telepharmacy in their small community of about 600 people. I told them I'd be very interested and I found the perfect location when one of the village's local doctors reached out to me and asked if I'd be interested in opening a small location in her newly remodeled office. We're hoping to open our doors by the end of this October and it will be the first Medicine Shoppe store to use Telepharmacy technology.
Do you have any goals or aspirations in mind for your new "Telepharmacy?" What would you consider a successful first year in business?
TelePharm
says that a successful and sustainable Telepharmacy should fill at least 40 scripts a day with one technician. I'd love to get to the point where one technician isn't enough to meet our demand. I've already had community members telling us that we're going to be really busy – so I'd love to be filling 60 or 80 scripts a day by the end of our first year. I'd also like to offer Dispill services in the second location. The doctor's office we'll be located within actually serves a lot of younger patients and new mothers. It will be a great opportunity to connect with and build a loyal, long-term customer base.
How have you been innovative when adopting new services or technology, and how do you think that's affected your success in ownership?
Pharmacy practice has changed a lot since 1994 – when I opened my first store, about 70 percent of our business was cash, compared to now, where 90% of my patients get their prescriptions through insurance coverage. It can be challenging to keep on top of all of the changes in the healthcare system and remain competitive, so we've adopted some niche services. We offer local delivery, Dispill Packaging, and a convenient double drive-through window. We provide flu, shingles, pneumonia and TDAP vaccinations and hold hearing-aid clinics every Thursday to help us generate new foot traffic. We focus on MTM services and medication synchronization. We also service a local assisted living facility with all of their prescription needs.
How do you feel the stigma of women in business has changed since you became a pharmacy owner?
When I opened my pharmacy, there weren't as many women pharmacists in the industry. Sometimes when business or sales people would visit my store, I'd often get asked, "Do you make the business decisions for this pharmacy?" I'd often laugh and joke back with them things like, "Yes, and I don't even need permission from my mother!"
Today, I feel the stigma has changed a little for the pharmacy industry and over the years, I've also been able to prove myself to my community and my customers – they know who I am, and they know I'm very experienced in the industry. I encourage women to take the plunge and become their own boss. It may be challenging, there may be hurdles, but it's worth it.
Do you have any advice for aspiring pharmacy owners, particularly women who are considering ownership as a career option?
Find what will work for you! I opened my store very soon after I graduated college – I didn't wait to start a family and then pursue ownership like a lot of people. I had my son about six years after I opened my store, and he grew up in my pharmacy. It might not be feasible for every owner to open a store right after school, but I'd encourage them not to "rule it out" immediately. My store was my "baby" before I had a baby – and I was able to commit the time and effort 100 percent because of where I was in my life at the time.
So let's talk about work life balance. How has owning your pharmacy helped you manage a family and outside life that sometimes comes with competing priorities? What advice would you give to women who might be struggling with the thought of ownership because they feel it would be "too much?"
It's a lot of work. However, because I owned my own store, I was able to set my own schedule and make time with my family a priority when I needed it to be. I set aside one day a week that was totally devoted to me and my son – and my employees and my patients knew and understood my schedule and my priorities. My son would go to daycare during the day but would spend time at my pharmacy every evening. My son has seen both my husband and I's entrepreneurial spirit, and we know he's going to pursue his own business one day as well. He's been selling sweetcorn since he was 7 years old.
Have you thought at all about your store's legacy and what you might consider when thinking about transition planning?
Since my son will likely follow in his father's footsteps and pursue farming as a career, my pharmacy legacy probably won't live beyond me in my own family. That being said, I've had a young girl work in my pharmacy as a technician for three years, and one day she told me she could see herself being a community pharmacist full time. She's now in pharmacy school and pursuing her degree. I told her that I would give her 10 years after pharmacy school to work, have a family and find what works for her. Then she could work full time in my store for three years while we develop a transition plan together. I'm excited to possibly pass the torch on to another female owner down the road. 
Any final words of advice or encouragement to our Women in Pharmacy community?
Owning a pharmacy is an investment – in time, finances and emotion. It's not a job for the faint of heart, but it's all worth it. I joke that I don't have a typical "9-5" job because it wouldn't be any fun. I encourage anyone considering ownership to just go for it. It's a process of trial and error and constant learning, but I've been able to OWN my career, and make it work for me and my family. You can do it too!
How have things been going since you opened your new TelePharmacy?
We opened our doors in Dieterich, Illinois, on November 15, but we still needed to get all of our 3rd party contracts in order, so we didn't widely promote our opening until early December. We're located in a physician's office and are responding to the community's needs; there isn't any other pharmacy in town. We've been filling about 15-20 scripts a day so far, and have seen good OTC sales, despite our small front end. I know of another telepharmacy in Illinois that took nine months to get to 40 scripts a day. I'm confident that we'll get there as well.
How did the opening go? Is there a learning curve with Telepharmacy?
Everything went pretty smooth. We have an installation rep and access to immediate tech support when we need it. (The only time we had issues was when our internet went down for 45 minutes.) When I'm counseling a patient through the software, they are always impressed with how good the video quality is. The biggest learning curve for me is time management. When I'm in my traditional store, it's easy for me to interact with my patients because they can come up and talk to me. I need to remind myself to check on my technician in the TelePharmacy from time to time because it's just not second nature to me yet.
What's next for you?
It's been a busy couple of months but I'm excited to see where things go from here. I'm rewarding myself and my family with a vacation to the Dominican Republic in a few weeks. I'm excited to be able to unwind for a bit and then get back to serving my patients in both of my pharmacy locations.
Telepharmacy technology
Visit the website to learn more about the Cardinal Health Telepharmacy technology.