Nancy Poore RPh.
Sharing the path from pharmacist to franchise owner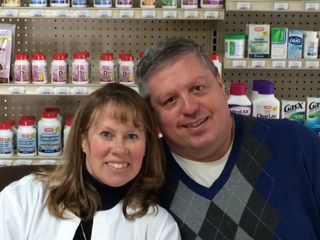 Nancy Poore, RPh. and Jim Poore, RPh.
Nancy Poore and her husband Jim are the proud new owners of a Medicine Shoppe® Pharmacy in Chittenango, New York. In this interview, Nancy speaks candidly about her first year in ownership, the benefits she sees in being a part of a franchise and gives advice for those interested in pursuing ownership in the future.
Tell us about your path to pharmacy ownership.
Right out of pharmacy school, I started working for a chain pharmacy, and I stayed with the company for 22 years. I was with the same store for 17 years and one day the company moved me to another store. I missed the patients I had built relationships with over the years. I would often see them in the community and they would ask me where I'd gone. I knew in my heart that if I had my own pharmacy, my patients would follow me. I was confident that my service was second to none. While in pharmacy school my husband interned at a Medicine Shoppe® Pharmacy in Middletown, Ohio, and he loved it. He always wanted to start one of his own someday. Given the circumstances, it became the perfect time for us to start our own Medicine Shoppe® Pharmacy.
What benefit have you seen opening a store as a part of a franchise?
Opening a franchise was helpful because the franchise team provided me business resources that I wouldn't otherwise have had access to if I opened a store on my own. They helped me through each step of the start-up process, and made sure I was doing the right things at the right time.
Have you had any mentors or supporters throughout the startup process?
Our Franchise Business Consultant, Mike, has been great. He held my hand through the entire start-up process. He helped me with everything I needed from writing the location lease for the lawyers to keeping me on track for when to apply or submit paperwork throughout the process. He also connected me to other Medicine Shoppe® Pharmacy owners in the area, which gave me a chance to talk to them about their business. It was especially helpful for me to learn about their pharmacy management software and how to use it before I decided on what I wanted to purchase myself.
How have you marketed your new business to the community?
Before we even opened our doors, I got out the town phone book and sent out letters to the patients from my former store to let them know that I would be opening a new pharmacy in town. I frequently spend time at the local grocery store catching up with past patients and telling them about my new business. I also make a point to attend community events and church suppers. It's one thing for people to see my name online or in print, but when they see me in the community it's much more impactful. They start to recognize and remember me and are more likely to come to our store.
What advice would you give to others considering ownership?
Be sure to have a lawyer and accountant with experience in pharmacy. Also, I think it's easier to attract customers in a community that you are familiar with, whether you've worked there or grew up there. If people know you, it will make it that much easier to switch. Finally, make sure you have a great technician. They can do a lot of patient background work, while you are taking care of the customers.