Student spotlight - Jennifer and Jessica Macklin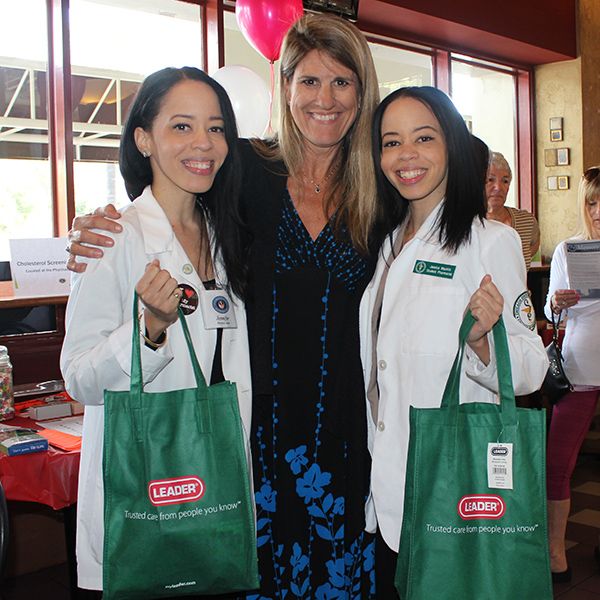 Jennifer and Jessica Macklin with Calabasas Pharmacy and Healthcare owner Brenda Johnson.
Jennifer and Jessica Macklin are P4 pharmacy students who recently completed a rotation at Calabasas Pharmacy and Healthcare in Calabasas, California, with one of Women in Pharmacy's Advisory Committee members Brenda Johnson. The sisters speak about their experiences at Calabasas and their dreams for a future pharmacy of their own.
Tell us about your path to pharmacy ownership. Why do you want to own your own pharmacy?
Our path to pharmacy ownership began in high school after we were exposed to pharmacy in our vocational pharmacy tech program. We really enjoyed what we learned in the curriculum and knew that someday we wanted to become pharmacists. We also grew up working in our family's full-service catering and entertainment business. Our dad is the owner and we admired how he was able to make his own decisions to give clients the best experience while planning and enjoying their event. We both felt inspired to incorporate our love for pharmacy and our desire to follow in our dad's entrepreneurial footsteps to eventually become pharmacy owners. We would love to one day own a pharmacy together so that we are in control of the experiences and services that our future customers will receive at our pharmacy. Since high school, we've both made it our priority to visit and speak with many community pharmacy owners across the country about their ownership experiences.  We are very thankful for the many owners that have offered their stories and valuable advice so far. 
What plans do you have for your future pharmacy, what will be your pharmacy's niche?
We would love for our store to be a full-service pharmacy and wellness destination. In our opinion, a full-service pharmacy and wellness destination is a facility that will not only provide medications, but non-medication options as well; such as exercise, relaxation techniques and balanced meals to name a few. 
Tell us about your rotation with Calabasas Pharmacy and Healthcare.
Our Advance Pharmacy Practice Experience (APPE) and capstone project with Brenda Johnson at Calabasas Pharmacy and Healthcare in Calabasas, California, was incredible! Brenda was a great preceptor to have for our independent pharmacy elective because she has years of experience running her own pharmacy. We couldn't have visited her pharmacy at a better time as we were able to join in celebration for Brenda's 20 year anniversary. To celebrate 20 years of service, she gave back to her community by hosting a Free Health Fair, which we helped plan.  
While at Calabasas Pharmacy and Healthcare we had the opportunity to interact, counsel and perform screenings with her clients. We also learned about the operations that go beyond dispensing and counseling. We were exposed to creating staff schedules, ordering products, pay roll and various problem solving situations with customers. We both truly enjoyed our time with Brenda and her phenomenal staff. Everyone made us feel very welcomed and didn't hesitate to show us the ropes. We can't wait to go back and visit everyone. 
What lessons did you learn from your time at Calabasas Pharmacy and Healthcare and how will you apply those learnings to your business someday?
We learned that having very nice, helpful and knowledgeable staff can lead to a more productive and smooth day. From experience with our family's business as well as speaking with Brenda on the subject, we know that great staffing is vital to running a successful business. In the future, when hiring employees, we will utilize the interviewing advice that we received from Brenda as well. 
What have you learned from Brenda during your time in her pharmacy?
We've both learned so much from Brenda during our time in her pharmacy. One of the most impactful lessons was as an owner and pharmacist, you can't be everywhere all the time. It's important to train, trust and delegate roles and responsibilities to your staff. 
What advice do you have for other students who may be interested in ownership someday?
Our advice would be to research pharmacy niches and owners and start to network. We both used to be very shy and it was very difficult for us to approach anyone with our ideas and dreams. Once we realized our dreams of ownership wouldn't be possible by keeping it to ourselves, we started to open our mouths. We couldn't believe the amount of support and resources that came our way, especially from Cardinal Health and the Women in Pharmacy initiative!