Susan Ralston, RPh.
Up and Coming Pharmacy in Upland, Indiana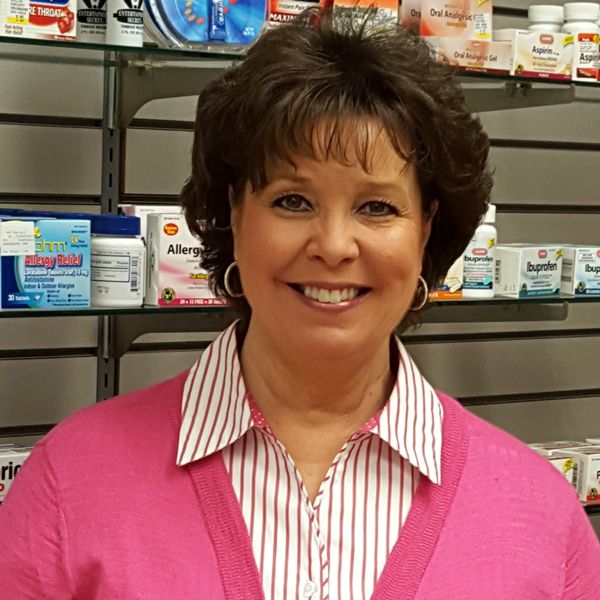 For Susan Ralston, having her own pharmacy is all about taking care of her community. The proud new owner of Upland Family Pharmacy, in Upland, Indiana, Susan shares with us her path to ownership, lessons learned as a new business owner and advice for those considering ownership.
Tell us about your path to pharmacy ownership.
I have worked in many different pharmacy settings – mail order, nursing home, hospital, and my favorite, retail. My experience in retail became the key to my ownership. I started with Upland Pharmacy in 1999 and became the pharmacy manager in 2004. Blessed with a boss who valued and trusted me to operate the pharmacy like it was my own, I gained first-hand experience with what it would be like to someday own my own pharmacy. After receiving the news that the building was being sold and the pharmacy would have to close, the medical providers in the building asked if I might be interested in starting an independent pharmacy in the community. They all felt strongly that a pharmacy was essential for the community. After much consideration, I decided to take the leap and open my own pharmacy. When the Upland Pharmacy closed its doors in 2013, the owner sold the prescription files to a large chain pharmacy with a no compete clause that prevented me from opening my own pharmacy in the medical building for 2 years. I didn't let that deter me. While I waited for the no compete clause to expire, I made a plan. I connected with Cardinal Health, hired some great people, and in January 2016, I opened the Upland Family Pharmacy.
Have you had any mentors or supporters throughout the startup process?
I feel so blessed to have strong pro-pharmacy medical providers in the Upland and neighboring communities offering support and encouragement. The community was incredibly supportive as it anxiously awaited the return of the pharmacy. I could not have done it without my Cardinal Health business consultant, Nathan Mills, and others who have greatly supported me including many community leaders and Taylor University. 
How have you marketed your new business to the community?
I have marketed my business in many ways. I connected with Taylor University and used its many resources including its human resource department that sent out a memo to all of its employees announcing our opening and its student newspaper that ran an article in the school newspaper about my pharmacy. I have spoken at a senior citizens luncheon and the Chamber of Commerce to publicize the pharmacy opening. Upland has added an announcement about our pharmacy opening to their digital sign on Main Street. I have also used Facebook quite a bit. I am currently working on a yard sign and an "every door direct mail" campaign to spread the word.
What plans do you have for the future of your pharmacy business?
In the future, I plan to offer prescription delivery service and expand our MTM services. I am also interested in partnering with local community groups to share
GenerationRx
to a wider audience.
What makes your pharmacy unique, what is your pharmacy's niche?
Upland is a small community of about 3,800 people and is the home of Taylor University, which has about 2,000 students. Our pharmacy is located in a medical building directly across the street from the university campus. Our building also houses the student health center, so we are fortunate to serve the student population. We are the only pharmacy in this small, rural, family-oriented town. In fact, the nearest competitor is seven miles away, so we really want to promote the concept of a hometown pharmacy. We want to know our customers by name and we strive to focus on patient care and attention to the individual. For me, it is all about taking care of my community.
What lessons did you learn from starting your first pharmacy and how have you/will you apply those learnings in your new store?
I have learned to seek out and welcome help and advice. I have also learned that reaching out to everyone I know to spread the word is imperative. Hiring the very best people makes all the difference in the world. I have learned to double the amount of time I think I will need because there are so many things that will pop up that are out of my control. I have learned that it takes hard work, commitment, and a willingness to work long hours to make it work. I have become tenacious in my pursuit of building a successful pharmacy business. At the end of the day, my patients will be happy and healthy, and that gives me a great sense of satisfaction.
What advice would you give to others considering ownership?
My advice is to give yourself a chance! Be grateful for this opportunity and do not be afraid to use your contacts and ask for help. Do not let your age be a barrier to your dream. Do not be afraid to try because a lack of action based on fear of failure will make your dream impossible to achieve. I have a little sign that I read daily that says, "If you don't go after what you want, you'll never have it. If you don't ask, the answer is always no. If you don't step forward, you're always in the same place." Do not get discouraged if customers are not knocking down your doors that first month. Keep doing what you do best and eventually people will hear about you and find their way into your pharmacy.