MIPS: How we got here and your practice's pathway forward
We are entering the last quarter of the first performance year under MIPS - the Merit-Based Incentive Payment System created by MACRA – and many physicians are still unsure of how they will manage their implementation strategy.
Research conducted by Cardinal Health
shows that more than one-fourth of oncologists surveyed didn't know how they will manage their MACRA strategy and 1 in 6 are seeking a merger with a larger entity to comply. Although there has been much debate recently about healthcare legislation, MACRA was passed with bipartisan support and it looks like it's here to stay. Understanding the full complexity of this legislation can be challenging, but it boils down to making a choice between two pathways for your practice. 

The way forward: Choosing from two MIPS pathways

Physicians must elect one of two paths under the Quality Payment Program (QPP), depending on their readiness to manage and succeed under risk-based contracts—MIPS or participation in an advanced alternative payment model. Some have equated MIPS with putting on a bike helmet, and participating in an advanced APM with riding a bike with training wheels. Both are steps toward easily and safely riding your bicycle to the park. One just happens to be a small step forward; the other takes more preparation, effort, and willingness to take risk.

Merit-Based Incentive Payment System (MIPS)

MIPS keeps the fee-for-service system intact for physicians, but adjusts those payments based on the physician's composite score on certain quality and cost measures, participation in clinical practice improvement activities, and use of an EHR.
Physicians with above-average scores will see an upward adjustment to their MPFS payments, while those with below-average scores will be penalized.  The bonus/penalty amounts start at +4/-4 percent in 2019 (based on 2017 performance) for the best/worst performers, with those between the two receiving different percentage adjustments. These amounts then increase by one percent each year until 2024; thereafter, the amounts remain at +9/-9 percent.   
This system represents a relatively small step forward from traditional fee-for-service, but it's intended to prepare providers for more robust value-based payment programs.  Whether CMS can devise performance measures that actually drive improvement remains to be seen. 

Advanced alternative payment model (APM)

APMs represent a more significant shift away from fee-for-service reimbursement.  To qualify as an advanced APM, the payment model must
(1) Involve more than a nominal amount of downside financial risk for the physician
(2) Require the physician to use electronic health records
To reward risk-takers, APM participants receive an automatic 5 percent bonus payment on Medicare Part B payments.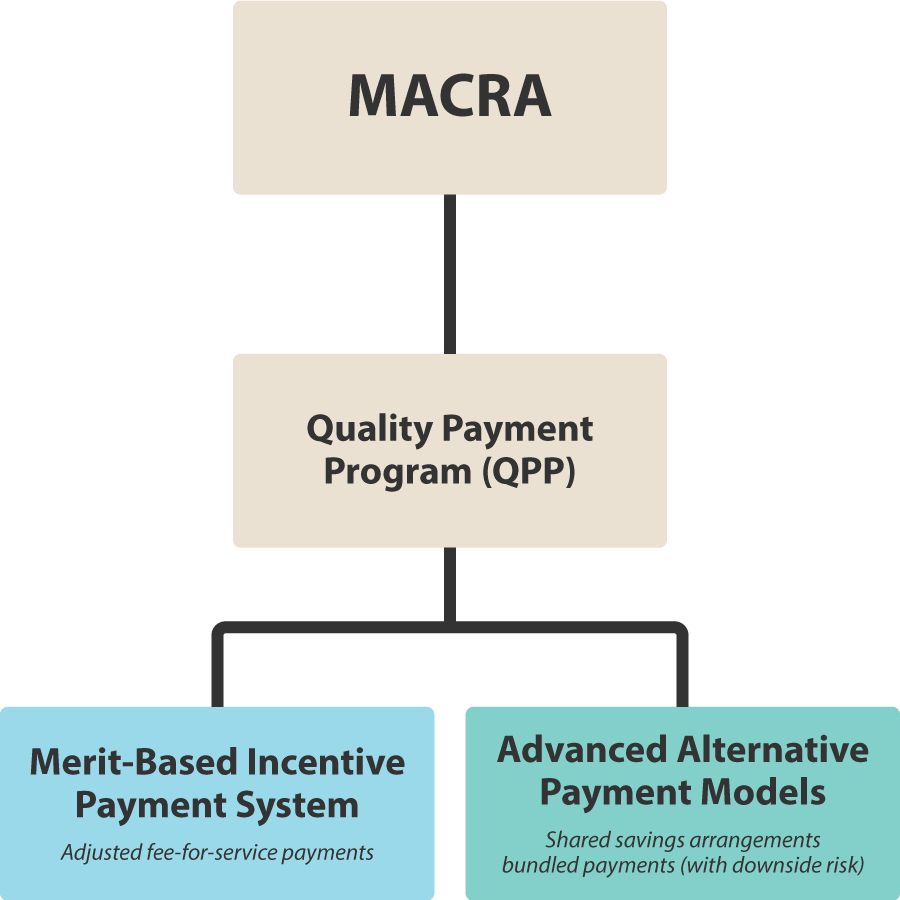 While MACRA's general concepts are relatively straightforward, the QPP's actual operations are complex, including over 500 different measures and corresponding benchmarks, different reporting mechanisms, and different formulas for calculating scores.  CMS is committed to a smooth transition to this physician payment program, but is struggling to keep things simple with so many moving parts.
The QPP's underlying purpose is to pay physicians based on relative performance and not just the number of services they provide. Additionally, many commercial payers are looking to implement similar payment adjustments. With this in mind, now is the time to choose the pathway that makes the most sense for your practice. The days of straight fee-for-service reimbursement are numbered. 
October 2017
Members login
Sign in to the members-only section of VitalSource™ GPO. Your portal to valuable resources designed to help maximize profitability and optimize efficiency.
Become a member
VitalSource™ GPO is a consultative partner who delivers meaningful solutions to make your business more successful.
Yes, I would like to learn more about Cardinal Health's products and services by email. I can withdraw my consent or change my preferences by visiting
Update Preferences
. Visit
Privacy Policy
for more information about Cardinal Health's privacy practices.