Prescribe the right therapies—with a clear view of financial implications
Empower your practice and your patients to make more informed decisions with deeper insights into the financial and operational implications of cancer treatment.
Regimen Analyzer is an integrated, web-based tool that allows you to quickly compare financial implications and clinical outcomes by regimen, drug and disease. Uncover new opportunities to optimize your drug spend, identify all eligible reimbursements, and potentially help decrease your patients' financial burden.
See the road ahead to do more for your patients today
Understand your potential practice margins with ability to analyze by regimen, medication, or therapeutic class and see cost and reimbursement
Support formulary decisions, biosimilar adoption and clinical pathway programs by comparing economic implications
Save time for your staff by having the necessary financial information for treatment decisions all in one place
Easy to use and convenient features
Compare complete regimens side by side
Load private payer fee schedules
See reimbursement at the drug code level, updated every quarter
Reveal out-of-pocket medical costs, including maximum limits, co-pays and deductibles 
Connect patients to financial assistance programs and provide easy-to-read financial estimates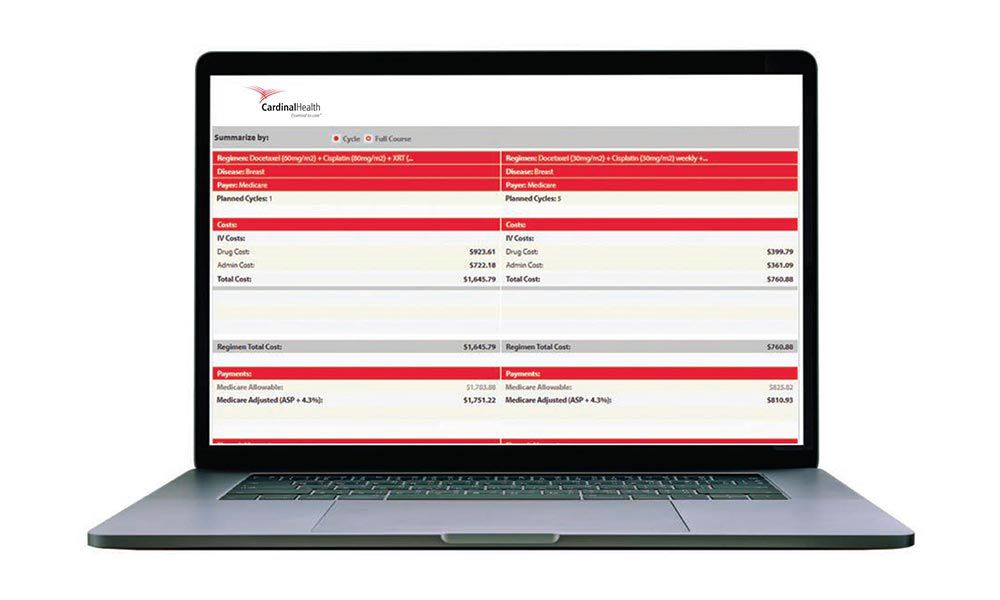 "The Regimen Analyzer tool is a great resource for our office staff…compare cost vs reimbursement… look up the Medicare fee schedule reimbursement for the particular drug in question… and also an easy tool to estimate patient financial costs."
– Erin Lemire, Financial Counselor
Southern Oncology Specialists

Navigate value-based care: If you participate in the Oncology Care Model, Regimen Analyzer delivers financial counseling tools, customized reports and other resources to support participation requirements.
---